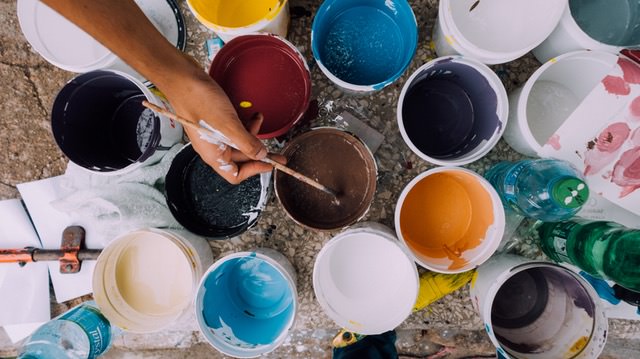 Color can be highly personal, especially when it lines the walls of your home! Poring over paint chips when trying to choose wall colors can be one of the best parts of moving into or freshening up your home – it can also be the most frustrating. With so many choices, finishes, and combinations, where do you start? The good news is that choosing a paint color can and should be fun…and relatively painless, too! Here are seven things to consider before you start painting:
1) Start small, and test first.
If you're starting with a blank slate but aren't sure where to start adding color, experiment in a small bathroom or hall area first. If you're doing the painting yourself, try to choose an area you'll be able to complete in a day or two so you can assess and enjoy the results sooner.
To begin, pick one of your favorite colors, or look for some inspiration from a painting or piece of furniture. Purchase a small test can for your color of choice (or even a few test cans with different colors) and apply the paint in the room you'll be painting. Let it sit for a few days if you're not sure how you feel about it before using the same color elsewhere in your home.
2) Will you be selling anytime soon?
While you might love that fiery red accent wall in your living room, new homebuyers might not feel so hot about it. If you're planning on selling your home within the next year or so, you might want to consider sticking to a fairly neutral color palette. Big, bright, and bold color statements might turn potential buyers off. If neutral walls just aren't your style, try using that bold color in a bathroom or focusing that bold color into your room accessories that might be more easily adjusted for staging.
3) Coordinate with your furniture first.
It's easier to choose a paint color that goes with the furniture you already have than it is to paint your walls first. While searching for décor, it's okay to aim for a selection of colors you already have in mind, but attempts for an exact match can get pricey. If you're aiming for a cohesive look and simply cannot budge on your wall color of choice, find a swatch from your local home improvement store and bring it with you while you shop — you may find furniture of a similar shade that you like better!
If you're having a tough time coordinating major furniture pieces, try using neutral tones and wield your power colors in the form of accents.
4) Think through the flow of your whole home.
Consider your walls as planes of color, and take note of how they interact as your gaze may catch more than one room at a time. Start by walking around your home and observing the colors you see as you turn each corner. While selecting paint colors, think about how each will flow from room to room and what your home will look like in full.
5) Consider different lighting.
Pairing with the first consideration of starting small and testing first, observe your paint at different times of day and consider where the light is coming from. You may find that you love a color on a sunny afternoon but, when the sun sets, it turns a bit gloomy. Keep in mind these lighting effects:
Natural daylight will show your color in its truest form.
Incandescent lighting brings out yellows and warm tones.
Fluorescent lighting will cast a bluish tone.
This means that a bold color might feel overpowering when used on all walls or next to a window, but it might actually look perfect when used as an accent wall with more indirect light.
6) Create the right mood for each room.
Do you want your dining room to feel bright and stimulating, or would you rather it feel more formal and subdued? Warmer, contrasting, and somewhat brighter colors add to a stimulating ambiance, while deeper blue-greens and neutrals will create a more formal feeling.
Would you like your bedroom to feel peaceful and soothing, or vivid and warm? Soft, cool colors and neutrals usually create a more soothing feel; stronger colors create more drama.
Regardless of your taste or style preference, be sure to make a conscious decision and remember that the purpose of the room should also match the feeling your paint evokes.
7) Choose the right sheen.
If you want to mask any structural flaws or unevenness, use a paint with as little sheen as possible. Likewise, you'll want to consider a different sheen for ceilings and baseboards, too. Here are some guidelines for the different finish choices:
Flat (Matte) – No shine and works great for ceilings and low traffic areas like living rooms and bedrooms
Flat – Has almost no shine but is a little easier to clean than flat paint. This is also a good choice for low traffic and if you have kids or pets.
Eggshell – Has a tiny bit of shine and is perfect for moderate traffic areas like living rooms.
Satin – Has a bit more shine and works in high traffic areas that are prone to mess or have moisture like kitchens and bathrooms
Semi-gloss – Shiny but not like a high-gloss. Use this for cabinets and trim, or in really high moisture areas.
Hi-Gloss – The shiniest of them all. This finish gives an almost glass-like finish and is perfect for high use surfaces (like a railing) or furniture.
These seven essential considerations will help guide you throughout the painting process, but be sure to check in with your local realty expert for extra tips, tricks, and resources (especially if you plan to sell your home soon)!